posted on:
November 9, 2018
in:
Our blog
Our newest in-house TSW team member Katie Eldridge recently participated in the Unite to Fight fundraising event in Melbourne to support vital cancer research at the Peter MacCallum Cancer Centre. Diagnosed with breast cancer three years ago, Katie underwent much of her treatment and surgery at Peter Mac – making this a cause very close to her heart.
In today's blog, Katie shares her personal account of the importance of fundraising events like this one, and how they are making a meaningful difference in the lives of individuals and communities right across the nation…………….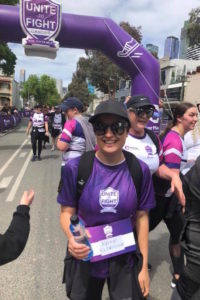 "Even though this was the third time I've participated in the Peter Mac Unite to Fight event, I still couldn't help but be overcome with that warm fuzzy feeling.
But it wasn't just the overwhelming acknowledgement of the journey I had been on to reach the event that stirred my emotions.
It was also the stories of those around me – the feeling that I was contributing to something bigger and an immense gratitude for the incredibly generous souls that had donated money to our cause.
A mammoth $1.3 million was raised as part of the event this year, and it got me thinking about all the money that is donated and given to various charities every day.
In a world that can often seem marred by terror, hatred and evil, here was a pure example of human kindness, generosity, strength, determination and compassion.
I know these days it can seem like you are constantly digging your hand in your pocket for one charity after another, and in today's fast-paced, consumer-driven society where living costs are becoming increasingly expensive and purse strings are stretched to the limit, I worry sometimes that the generosity will dry up.
Here in our own incredibly giving Echuca Moama community we have fundraisers for MND, Cystic Fibrosis, Community Living & Respite Services, Johnno's Run and Girls Night Out just to name a few, let alone the various worthy national and international causes that people contribute to and I know even for myself it can sometimes seem overwhelming.
But what I was reminded of on that day and have learnt from my own personal experience is that there will always be kind people in the world who want to help others.
Particularly when someone is sick, or disaster strikes, people can often feel helpless and sometimes donating money can be the only way they know how to help.
And after a bit of digging this realisation of mine was only backed up by the statistics.
According to Giving Australia, the largest ever research effort into giving and volunteering in Australia, led by the Australian Centre for Philanthropy and Nonprofit Studies (ACPNS) at Queensland University of Technology in partnership with the Centre for Social Impact at Swinburne University of Technology and the Centre for Corporate Public Affairs, it was estimated that 14.9 million Australian adults gave a staggering $12.5 billion to charities and not-for-profits organisations in 2015-16.
That equates to about 81% of the population with an average donation of $764.08 and a median donation of $200.
I always knew we lived in the lucky country but how amazing is that?!
I have been on both the giving and the receiving end of donations and let me tell you, I know how uplifting it is when your chips are down to realise there is a tribe of people willing to raise you up and I also know how equally amazing it feels to be able to help others in their time of need.
So from my heart to yours, thank you. Thank you for any donations you have made or will make in the future that may seem insignificant at the time – because are truly appreciated and meaningful.
Even when the issues seem so big and you think what difference can I make? Believe me, every bit helps, and we cannot give up.
I'm not saying you need to hand over all your hard-earned cash to any old cause but when we find something we believe in, I think it is our duty as compassionate citizens to contribute. It doesn't always have to be with money – it may be with kind words or acts of service but by choosing kindness and compassion for the people and communities around you will not only bring joy to yourself, but hope to people like me.
Hope, that maybe one day they'll find a cure for cancer.
Hope, that together we can all make a difference not only for my cause but for so many other worthy people suffering or in need across the world.
Hope, that the love, kindness and compassion we share we will be contagious.
Hope, that we can inspire the next generation to have respect for themselves, others and the planet.
Because that is the kind of world I want to live in.
Katie for TSW xx
#spreadingthegoodstuff