posted on:
May 7, 2018
in:
Our blog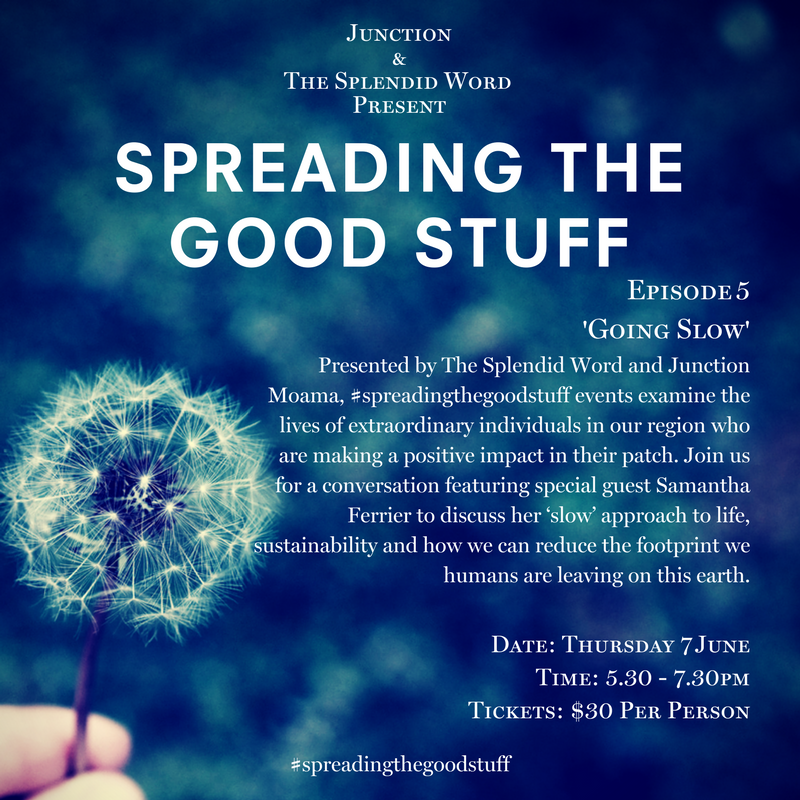 It's landed! The 5th episode in our Spreading the Good Stuff live conversation series is coming your way, with the divine Samantha Ferrier at Junction Moama on Thursday June 7.
In this episode we'll be diving deep with Sam to explore her 'slow' approach to life, her deep passion for the environment and sustainability, and how we can all play a role in reducing the footprint we humans are leaving on this earth.
Sam is an environmentalist, change-agent and firm advocate for living a slow and wholehearted life. She believes that by choosing 'slow' we can not only help our earth, but also improve our relationships and experience of life in the process.
She is the founder of Echuca Moama Plastic Bag Free, has played a lead role in championing the local Boomerang Bags movement and is passionate about fostering grassroots programs that will lead to positive change.
"I have always had a passion for the environment, in some way or another," says Sam.
"I want to ensure that the planet we are borrowing from our grandchildren is thriving and sustainable. We live in such a throwaway and convenient society, where instant gratification and monetary wealth often take precedence over environmental stewardship and richness in relationships, culture and experiences.
"At the same time, we have seen a flourishing of grassroots movements towards caring for our earth and our people, and this excites me. I want to foster these community initiatives and believe that these ripples are the pathway to change… slow and meaningful change."
Sponsored by Junction Moama, #spreadingthegoodstuff events examine the lives of extraordinary individuals in our region who are making a positive impact in their patch.
The conversation series builds on our crusade to promote positive communication and the power of kind language across our regional communities.
Each event includes a live conversation hour where we explore some of the big issues, challenges and opportunities of our time – leaving you enriched, enlarged and empowered to spread more of your own good in the world.
Join us at Junction on June 7 for a remarkable evening of illuminating conversation with Samantha Ferrier by securing your tickets today. We know this conversation will leave you feeling inspired and empowered to create positive change in your own lives, and in the world around you.
Tickets are $30, strictly limited and must be purchased prior to the event day. Included in your ticket is a complimentary glass of sparkling wine and nibbles.
Tickets and further details available here.
We look forward to seeing you there!
x Lee
#spreadingthegoodstuff
Please note: Junction is an over 18 venue at all times.
Smart casual dress required, no thongs after 5pm.