posted on:
September 14, 2018
in:
Our blog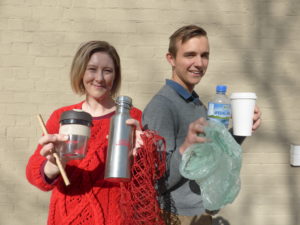 How often do you stop to think about your waste management practices and the impact your behaviour is having on our environment?
It's something I am increasingly becoming more mindful of as I try to make better choices for the health of my family and the planet, in the hope that I can be a positive role model for my two young children and raise them with a social and environmental conscience.
The Campaspe Shire is asking you to be become more aware of 'waste' through its annual WICKED survey.
The WICKED (Waste In Campaspe – Know, Educate, Do) Program informs and educates, and aims to shape positive attitudes and behaviour change in waste reduction. The WICKED survey provides important insights into the impact the program is having in our community and you can WIN some fabulous prizes by being involved.
Campaspe Shire Environmental Projects and Education Officer Samantha Ferrier explains the WICKED survey provides valuable information on residents' knowledge, attitudes and behaviours in relation to environment and waste management practices across the Shire.
The survey seeks feedback on the use of council's eight transfer stations, kerbside collection, illegal dumping and what goes in what bins. It provides consistent baseline data to help with identifying waste education priorities as well as the planning, coordination, implementation and evaluation of the program. It also gives residents the opportunity to get creative and share a short story and photo about how they are implementing their sustainability practices at home, work or school.
"My favourite part of the survey is reading entrants' responses to the Sustainable Living question," Samantha said.
"This year the theme asks residents to demonstrate how they meet one or more of the objectives of the WICKED program – from improving recycling and minimising food waste, to increasing energy and water savings," she said.
Results from previous WICKED surveys have shown a positive shift in peoples' attitudes and behaviour towards waste reduction and we can only hope, with the broader movement that is building momentum across the globe thanks to programs such as The War on Waste and the decision by major supermarkets to ban single-use plastic bags, this year's results will continue to improve.
Not only will completing the survey help improve waste and environment educational opportunities for the community, you can also win one of the following four great prizes:
A recycled plastic raised garden bed (eWood wicking bed) valued at $600.
A plastic free-living gift pack valued at over $120, thanks to Echuca Food Store and Organics.
A copy of Waste Not – Make a Big Difference by Throwing Away Less by Erin Rhoads.
A Port of Echuca Discovery Centre Family Pass.
The WICKED survey is open to all Campaspe Shire and Moama residents, groups, businesses and schools, and can be accessed via council's website under the 'Have your say' section or click here. Hard copies are also available from Customer Service Centres across the Shire.
The online survey closes on Sunday September 30, and winners will be notified by Wednesday October 10.
So now is the perfect time to have your say. And remember every small step we take towards positive behaviour change today can have a huge impact on the attitudes and practices of the next generation.
Katie
#spreadingthegoodstuff
Image thank to Campaspe Shire