posted on:
March 1, 2019
in:
Our blog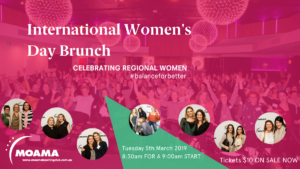 We're back #spreadingthegoodstuff for a fabulous event happening locally next week to celebrate regional women.
A group of motivated local women and businesses, led by Nina O'Brien at Committee for Echuca Moama, has organised a fabulous International Women's Day Brunch event to celebrate all women in our twin towns and highlight just some of the amazing work being done by our local ladies.
The event – this coming Tuesday March 5 – is hosted by Moama Bowling Club and includes some amazing guest speakers, as well as a diverse panel of local ladies who will share their experience and advice and start an important conversation around fostering confidence, knowledge and inspiration among us women folk.
The aim of the brunch is to highlight what incredibly diverse, strong and talented women and girls we have across our region and to celebrate what can be achieved when we support each other.
Women who attend are in for a treat with an amazing panel of guest speakers including local GP and marathon runner Dr Claire Goodman, chiropractor and yoga teacher from Well Soul Studio, Ellen McNeil, and an incredible discussion panel featuring Megan Williams from Camel Milk Co Australia, Georgia Cadd founder of Squoosh, Njernda's Kelli Bartlett and owner of Endota Spa Echuca and singer Jacinta Cannon – all hosted by MC and Boss Lady Brain founder April Whiston.
The event aims to provide all those who attend a great morning of networking and inspiration, as well as health-related information about health and wellbeing activities and services, which are all available locally.
Importantly, any funds raised from ticket sales will be directed back into a community-based charity or initiative that supports the advancement of women in the local community.
Doors open at the Venue, Moama Bowling Club at 8.30am for a 9am start (concluding at 11.30am), tickets are only $10 and are available here.
What a great way to celebrate International Women's Day, which is coming up on Friday March 8th!
#spreadingthegoodstuff #IWD2019