posted on:
March 21, 2019
in:
Our blog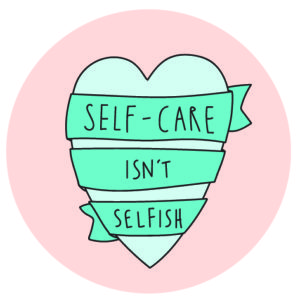 In our regular Spreading the Good Stuff podcast discussions we often talk about making time to nurture our own physical and emotional well being. And we understand that for many of us this can be a challenge, particularly when the 'wheels fall off' and life throws up challenges which consume both our time and headspace.
However, we all know that it's when we are working through life's challenges and tough times that most self care habits get put on the back burner, despite it being THE most important time to get enough sleep, eat well, meditate, exercise, slow down and refuel your tank.
Self care is no longer a dirty word and many of us have started to fully understand the benefits of taking the time to replenish and appreciate the subsequent boost of energy and positive mindset to help us tackle life's challenges. But for many, self care can still be seen as a challenge, or guilty pleasure. Thankfully help is at hand.
Thanks to some talented ladies who make it their business to ensure we are showing ourselves the same care and attention we might give to family, friends and work, there are plenty of opportunities to practice self care.
This weekend in Echuca Moama there are two wonderful workshops dedicated to self care, starting with a Wellbeing and Life Success Immersion on Saturday with Erin Barnes at Next Generation Wellness. This event is actually sold out, which is no surprise. We chatted with Erin (who is actually Leonie's sister) on our Spreading the Good Stuff podcast during January and it has been one of our most listened to conversations.
Erin is a passionate physical, emotional and behavioural expert and her work, which also include one-to-one sessions, aims to bring you comprehensible education, actionable tools and integrative behaviours to enhance your life.  Erin is a master at blending brain, body and behavioural science to help you achieve sustained and elevated wellbeing, and maximise focus and productivity to live your best life, which is something we bang on about a lot on the podcast. Erin's immersion day offers practical and achievable tools towards greater wellness, a yoga session and delicious, healthy treats. And the good news news is that she is in town for a couple of days if you're keen to lock in a one-to-one session of this 'good stuff' – find out more here.
We are doubly blessed in Echuca Moama this weekend to have another wonderful day dedicated to self care thanks to the lovely ladies at Well Soul Studio.
Beautiful You – Your Body Is Talking It's Time To Listen is an event all about self care and will feature Nat Kringoudis (doctor of Chinese Medicine, acupuncturist, author, speaker and all-round natural fertility expert), Lola Berry (nutritionist, author and yoga teacher) and local lady Ellen McNeil (Well Soul studio chiropractor with a Diploma in Chiropractic Neuro-Developmental Paediatrics and yoga teacher). This incredible trio will help empower women of all ages to understand their bodies and discover how nutrition, movement, hormones and overwhelm can significantly impact our health. How good does that sound? The day includes workshops, information sessions and yoga and is designed for you, your mum, your daughter, your sister or your best friend, but you need to be quick as spots are filling fast. Book your place here.
So, it's pretty clear that if you're in need of some extra self care tools, Echuca Moama is certainly the place to be this weekend and we think it's worth spreading the good stuff for!
Enjoy a weekend of wellness immersion, or even just a walk in nature with family and friends to refill your bucket. You won't regret it.
Christy xo
#spreadingthegoodstuff
Image thanks to: www.weheartit.com