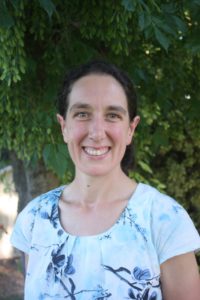 Kendra Whyte joined our team in 2015 to assist with proofreading and editing, which makes up a significant chunk of our monthly work, and has also assisted in training around writing and language.
Kendra, who hails from Canada, is a qualified teacher and offers tutoring services for high school students studying English, English as an Additional Language, French and History.
She also works with university students seeking help with their writing skills and offers proofreading or editing on essays, and one-on-one tutoring.
Kendra also has a wonderful rapport with mature-age students preparing for general aptitude tests and police exams, or those pursuing TAFE courses.
With a strong background in languages, and many years of travelling and studying overseas with husband and local Echucaite David, Kendra now also offers small-group French language classes for adults.
Like all of our Splendid Word crew, Kendra juggles her professional life with motherhood  and does an amazing job of managing her tutoring commitments, private classes and editing projects for TSW.
Kendra's qualifications include a BA (Hons), MA, B.Ed, TESL, Diplôme des Études Françaises (3ième degré) and she is VIT and NSWIT registered.
She is passionate about written and oral expression and many of the subjects she teaches are linked by this common thread.
"Whether it be through written or oral expression, it is important to realise that when a student learns how to skilfully 'play' with language, it can positively impact on their performance in a wide range of subjects, not just English (or French)!" Kendra said.
"It has been, and continues to be, very exciting on my part to assist a student in the development of these skills."
During any given week here at TSW Kendra will turn her editing and proofreading skills to documents such as regular business newsletters, blogs, feature stories, annual reports and award submissions.
We are extremely grateful for the work Kendra does and for the skill and expertise she brings to our team. We also love the grace and calmness she brings to her work, even when there's a deadline looming!
When asked what she loves about working with TSW, Kendra explained:
"I love the work I do because it enables me to help people by using language to its maximum potential. 'Playing' with language is fun, but being able to do this and see it benefit others is even better."